Eyebolts are commonly used in assemblies to lift or suspend loads. Different styles of eyebolts allow them to be attached to wooden posts, steel tubes or directly into threaded holes. There are four main styles of eyebolts available in a variety of sizes and finishes, and HAIFAN is here to introduce them to you.
Types of eyebolts
Regular eyebolts
These fittings are versatile and are designed to be inserted into a hole and secured to the back with the supplied nut. Regular eyebolts have a working load limit that should be taken into account when used to lift or support overhead loads. They are designed for linear loading only and may bend and break if loaded at an angle.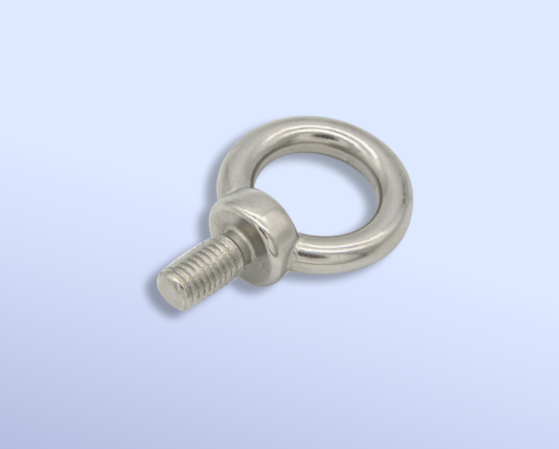 Eye Bolt DIN580
Square Eye Bolts
Square eye bolts have threads designed to be screwed into wood. They have no working load limit, as their strength depends on the type and condition of the wood it is screwed into. For example, a square eye bolt will take more load when screwed into a new oak board than an old pine fence post.
Mechanical eyebolts
Mechanical eyebolts are typically used to screw into equipment components to be used as lifting points. They have a short, fully threaded shank and are designed to be screwed directly into a threaded or tapped hole. These fittings have a shoulder that allows for lifting at a small angle and are listed with working load limits.
Shoulder eyebolts
Shoulder eyebolts have a support shoulder and if installed correctly they can be loaded at a slight angle. These fittings are versatile and are designed to be inserted into the hole and secured to the back using the nut provided. When used to lift or support overhead loads, their working load limits should be considered.
Stainless Steel Eye Bolt with Shoulder
Strength and Durability
One indicator of the strength or durability of a eyebolt is the way it is manufactured. While most of our eyebolts come standard with forged eyebolts, we do offer more economical variants that use formed eyebolts. Forged or cast eyes are recommended for critical applications.
Materials and Finishes
We offer eyebolts in stainless steel, hot-dipped galvanized steel and natural finishes. Stainless steel is the most corrosion resistant and offers the best appearance. Hot-dipped galvanized provides good corrosion resistance and increased strength. Natural colored eyebolts are not coated and are designed to be painted by the end user.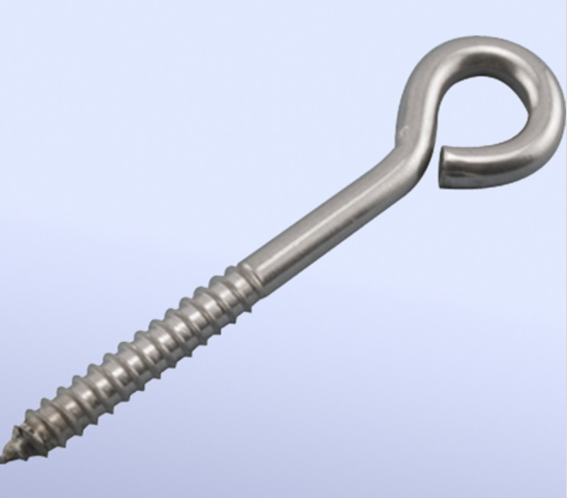 Stainless Steel Lag Eye Bolt
Mounting eyebolts
Mechanical eyebolts are mainly used for mounting in threaded holes. The threads of the eyebolts conform to UNC standards and need to be tapped accordingly to ensure that the shoulder is firmly fixed to the object to be lifted.
When drilling and tapping eyebolts, the depth of the hole should be the shank length plus one half of the shank diameter. Eyebolts will be used so that the load is applied around the axis of the eyebolt.
When installing mechanical eyebolts, it may be necessary to add washers to the eyebolts to achieve proper alignment. We will illustrate this by attaching 4 mechanical eyebolts to each corner of this lift box. Please note that all eyebolts are not "in a straight line".
To correct this problem, we will add washers as needed to get the eyebolts into the "aligned" position.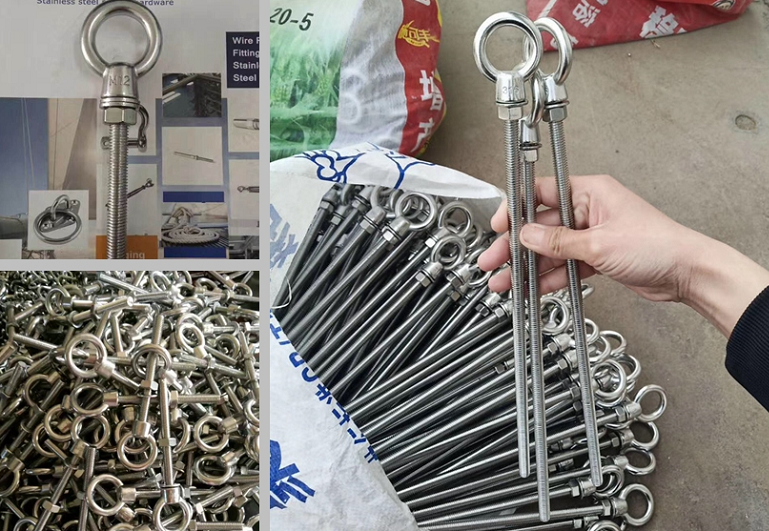 We hope this blog has been helpful in selecting and installing eyebolts for your rigging assemblies. If you have additional questions, please contact us.