The spring-loaded hook is a relative of the hiking buckle - a closed loop with a spring-loaded opening that operates by pressing your thumb onto the latch on the back. Spring hooks can be used to attach ropes or cords to other components. These can be found at the end of a rope or cord, allowing it to be attached like a lanyard medallion or barrier post.
Uses of the spring hook
Our spring hook is made of aluminum and is light weight and rust resistant. It has good stretch and is very light but still very strong.
In some applications, attaching ropes to rigs or to each other requires a versatile reversible connection that can be applied and removed quickly to accommodate changing conditions. HAIFAN's spring hooks are commonly used for obstacle ropes, lanyards, key chains, pet lines and other applications that require flexibility and adaptability, and are the ideal solution for attaching ropes and ropes to other items.
Spring hooks are commonly used for pet lines that are attached to dog collar rings, lanyards that must be reversibly attached to a rope or leash, and rope barriers that must be moved and placed into new configurations as part of their daily routine surgery.
Spring Hook Construction
The spring hook is made of high quality nickel plated steel for strength, corrosion resistance and a hard wearing, attractive spring hook exterior appearance. The silver look is perfect for any aesthetic, making these spring hooks a viable option for any obstacle ropes and lanyards without drawing too much attention or standing out from the rest of the background.
The basic form of the spring hook is a roughly question mark shaped metal hook with a hollow straight section in which the spring loaded closure bar is mounted, and a small snap or knob that opens when pressurized with the spring. When the knob is released, the gate closes quickly under the action of the spring, hence the name.
At the bottom of the spring hook, perpendicular to the hook bar, there is a rotationally mounted metal eye that is able to rotate freely about its axis. This metal eye is bolted or pinned into place to form a strong connection that will last for the entire life of the spring hook.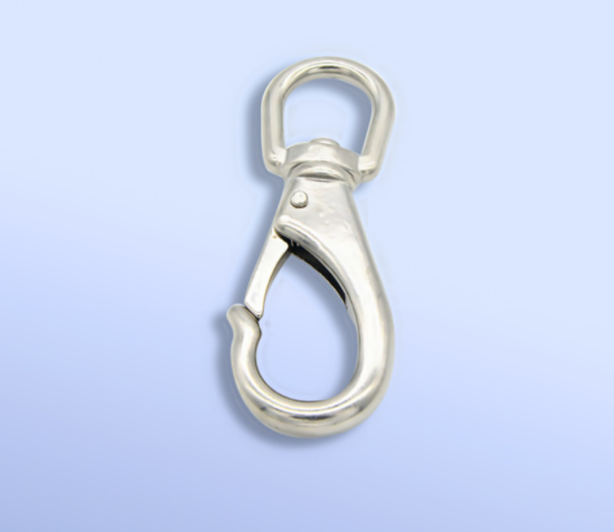 Stainless Steel Swivel Eye Snap Hook
How to use spring hooks
Spring hooks are easy to install and use. To attach a rope to a cord or rope, simply attach the rope to the swivel as you would to any eye or loop - this will be especially easy if your rope comes with a connector or clip.
After attaching the swivel hook to the rope or cord, you can use the spring hook to quickly and reversibly attach the cord to any other item with the appropriate eye or rod. Simply press the knob to open the spring loaded door, insert the hook onto the item you want to attach, and release the knob. The spring action will cause the hook to close quickly and attach securely.
Where to buy spring hooks
If you are looking for spring hooks, you can find them at the HAIFAN website. We specialize in any type of rope and rope attachment and offer spring hooks, swivel hooks and swivel eyes in a variety of sizes and materials.
The spring hook's swivel hook construction and quick spring-loading operation have helped make them one of the most popular hooks and grommets, and their rugged construction and attractive nickel plating have made them a favorite across the line. Whatever you need, HAIFA can help you - get in touch today!