product description
Set up your square or rectangle shade sail anywhere you would like with Our Shade Sail Installation Hardware Kit.
The set are designed for durability and dependability,and comes with the essentials you need to safely and easily suspend your shade sail.
You can mount it between trees,wall to wall,wall to tree or wherever you want it. The set is easy to use and will accommodate most kind of shade sail to set up your favorite relaxation spot with ease with this handy kit.
Turnbuckle-a stretching screw or bottle screw,a device for adjusting the tension or length of ropes,cables,tie rods and other tensioning systems. Carabineer-a metal loop with a spring-loaded gate used to quickly and reversibly connect components.
Diamond Pad Eye-a holder often found on boat to run through a line and provide an attachment point.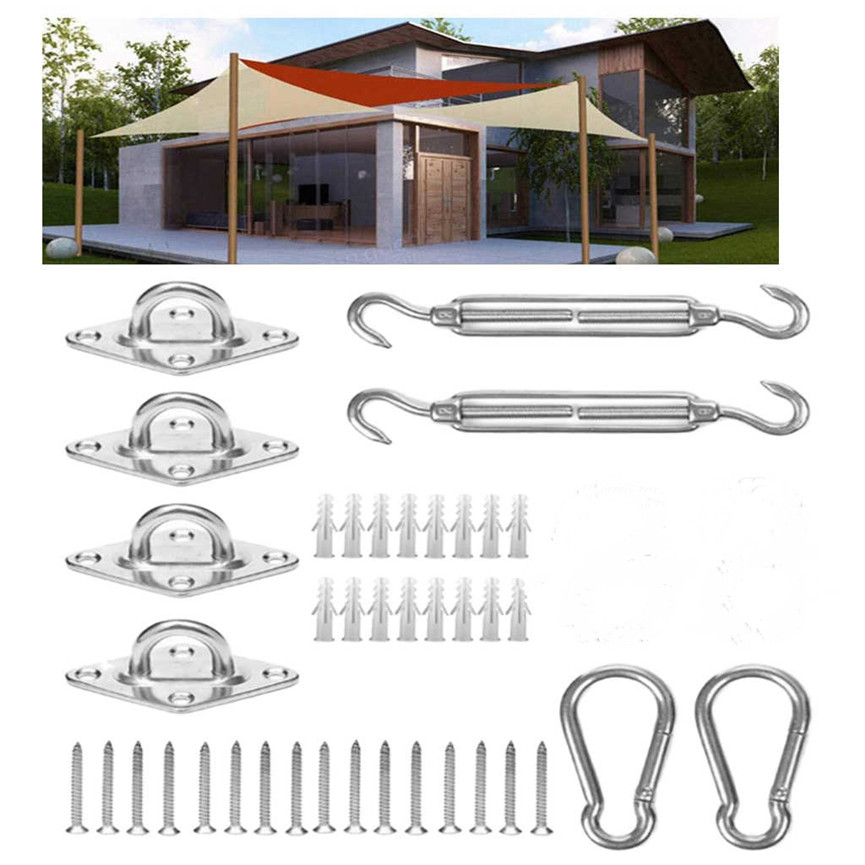 Name:Sun Shade Sail Hardware Kit
Size:M8
Quantity:40pcs
Use:for Trigangle and Rectangle Sails Installation Outdoor.
Color:Silver
Material:Stainless steel
Package Contents:
4* diamond button
2* tensioner
2* spring buckle
16* screw
16* Expansion plug only the above package content, other products are not included.
At Haifan Rigging we offer Sun Shade Sail Hardware Kits.
To place an order,just send us an inquiry here,but please do ask us if you need anything custom-made.
If you wish to ask a question or need further advice,you are welcome to contact us. We'll be happy to help.
We are always available for clarification and for order.
We look forward to hearing from you!